#Release: Polifonia releases first version of the Polifonia Ecosystem
The outcomes of the first year of the Polifonia project have been collected in one environment. Researchers, musicians, heritage professionals and anyone interested in musical cultural heritage can now use this ecosystem to find relevant datasets, tools and services in one central spot. Let's find out more.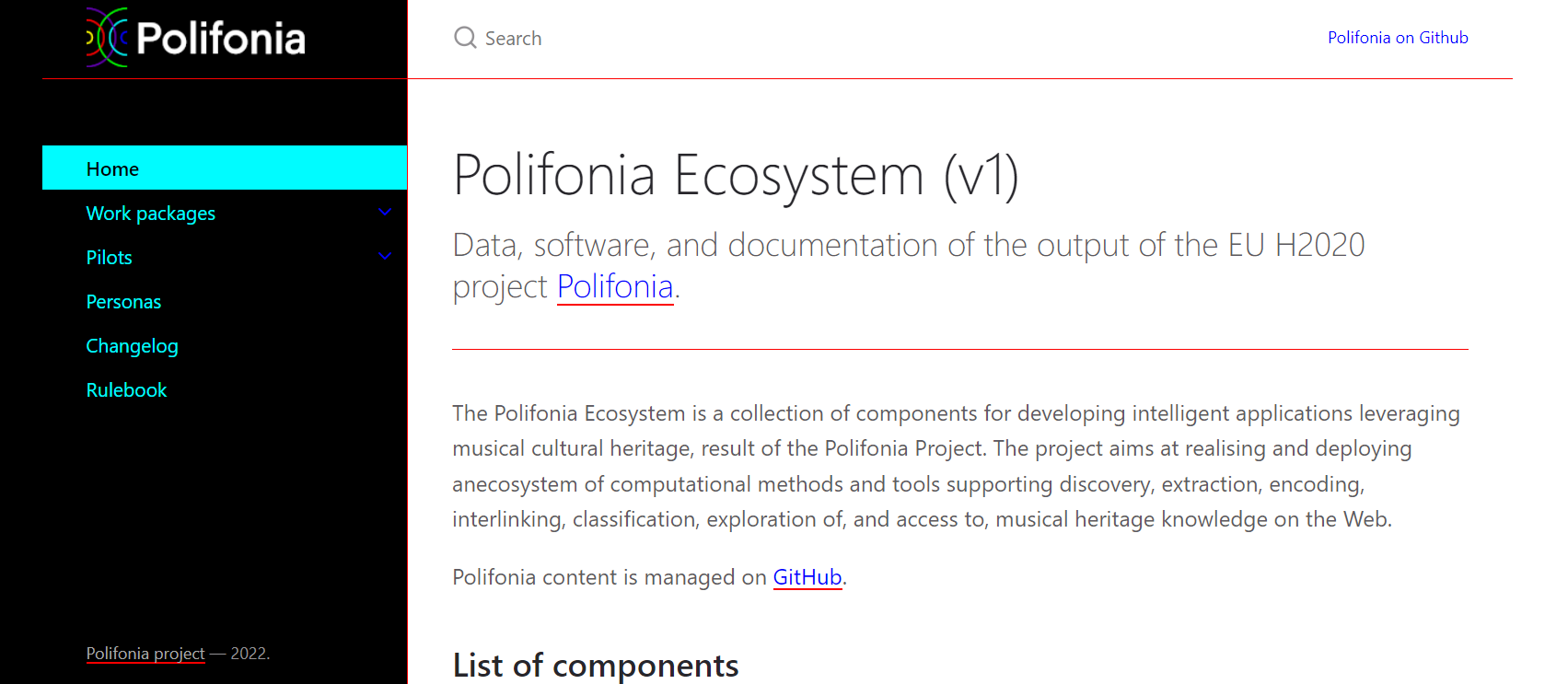 30 May 2022
The Polifonia Ecosystem is a collection of components for developing intelligent applications leveraging musical cultural heritage. The ecosystem consists of data, methods and tools supporting discovery, extraction, encoding, interlinking, classification, exploration of and access to musical heritage knowledge on the Web. Polifonia Ecosystem components are both independent — they have some value on their own — and interlinked — they can be used together in order to satisfy specific end-user needs.
The first release of the Polifonia Ecosystem includes requirements specifications, software, data, and tools produced during the first year of the Polifonia project. The release includes: Persona (19), Stories (28), Services (2), Schema (1), Repository (3), UI (1), Library (2), Dataset (3), Corpus (1), CLI tool (2).
Some of the highlights are:
Ceol Rince na hÉireann (Corpus): 1,224 traditional Irish dance tunes, each of which is represented as a monophonic MIDI file. Read more
Amy#1_OrganTrends (Story). For her next research project, Amy wants to discover artistic and technical trends of organs and how these developed. The development of these trends could possibly indicate wider social trends. Read more
MusoW (Dataset), music data on the web is a Linked Open Data registry of music resources available on the web. It includes extensive descriptions of more that 500 music collections, datasets, digital libraries and software solutions relevant to music. Read more
SPARQL Anything (Tool) is a system for Semantic Web re-engineering that allows users to query anything with SPARQL. Read more
The ecosystem will be expanded during future releases with registries, ontologies, repositories and more. Want to find out what is currently accessible? Then head to our Polifonia Ecosystem Website (https://polifonia-project.github.io/ecosystem/), which is the resource for accessing the ecosystem and browsing the components and associated documentation during and after the project's runtime. Want to contribute? See the Ecosystem Rulebook on GitHub: https://github.com/polifonia-project/rulebook